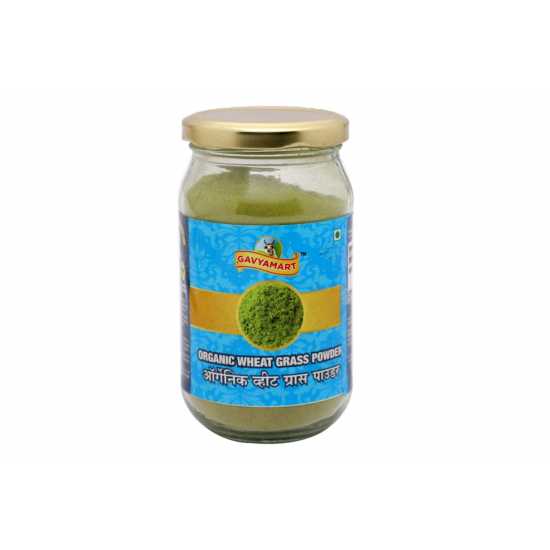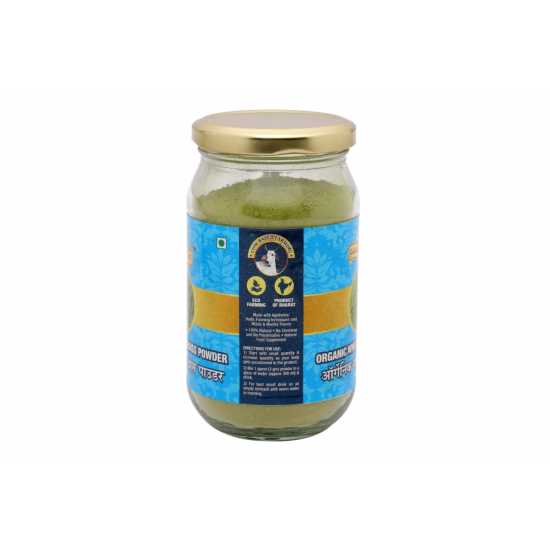 Gavyamart Organic Wheat Grass Powder 100gm
100% RAW ORGANIC WHEAT GRASS POWDER USDA Certified Organic, Raw, Vegan One of the best food sources of the detoxifier Living Chlorophyll Non-GMO, Chemical Free. Never processed to ensure simple, wholesome nutrition 1 serving = 89% daily intake of Vitamin C for healthy immunity and healthy skin. Good Source of Vitamins A & K, and B Vitamins for holistic wellness Supports Healthy Immunity & Digestion Recyclable/Reusable Container. What is Wheat Grass? Wheat Grass is a young, nutrient-dense member of the wheat family.
Wheat Grass Powder Is capable of Promoting Health, Preventing and Healing a number of Ailments It is made by safely dehydrating very tender shoots of wheat. The world is looking forward to Wheat Grass Powder for an answer to limitations of Aynthetic Multi Vitamins, Multi-minerals, as well as a supplement to solve numerous health problems.
Helps maintaining healthy body weigh

Helps detoxification of the body

Helps in cleansing the liver

Helps support healthy breathing and supports proper blood flow

Helps in maintaining healthy cholesterol levels

Origin of Product: India

Technical Details
Brand
Gavyamart
Country of Origin
India
Manufacturer
Gavyamart Panchgavya Utpad Pvt Ltd
Additional Information
Date of First Available
5 March 2021
Shipping charge: $ 0
Enter your location to check delivery

Add location




Stock:

100

Model:

Wheat Grass Powder

Weight:

150.00g

Dimensions:

8.00cm x 5.00cm x 7.00cm

SKU:

Gavya009

Location:

India
Gavyamart
Special Instructions:
Product Package Opening Video should be with you. Please keep in mind that when you receive the product and going to open the package, please make a video. It's mandatory for each & every customers.
Please read product description carefully; before checkout and placing the order.
Use This Discount Coupons "OMBIKA0598" at the time of checkout. If your order value exceeds Rs. 1000/-.
For each & every prepaid order; you will get Rewards Point equal to 1% of your order value.
If you have any queries; you may write to us at: [email protected]