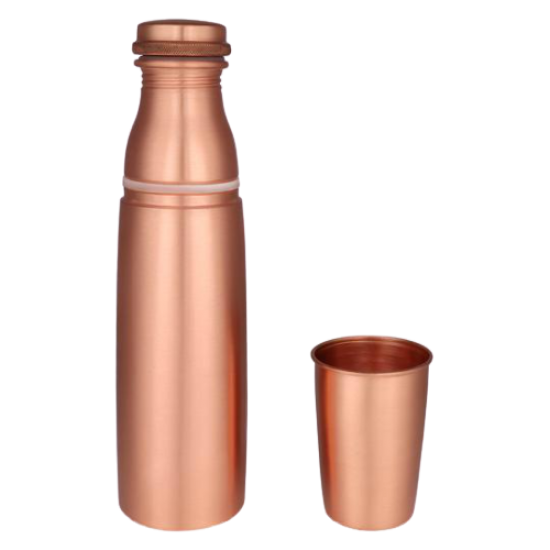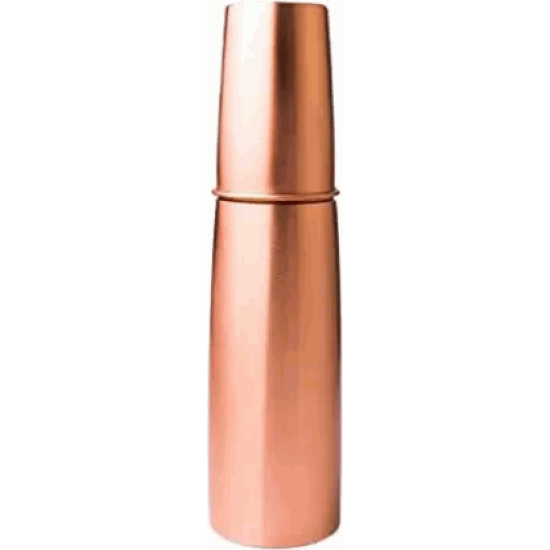 -7 %

Copper Water Bottle TMCB 621
Water stored over night in copper Utensil is essential for hemoglobin synthesis, bone strength and immunity building. Copper helps in maintaining digestive health, healing wounds and relieving pains. Copper is an Antioxidant and anti-carcinogenic that prevents cell damage and slows aging. Copper is primary element to produce melanin (pigmentation of eyes, hair and skin) in human body. Handmade metal ware is made by skilled craftsmen in India.
REDUCES WEIGHT, JOINT PAIN & IMPROVES DIGESTION: Water stored overnight in Copper Bottle helps in reducing weight, prevents obesity, reduces joint pain, maintains good digestion & make your life healthy FACTS: Copper changes color when it is exposed to air and moisture. This natural process is called Oxidation. This is a very beneficial process and keeps water fresh.

Product Specification:
Material: Copper
Color: Brown
Height: 11"
Width: 3"
Weight: 380 gm
Vol Bottle: 950 ml
Vol Glass: 270 ml
Copper helps in preventing cancer, regulating women's healthy menstrual periods,regulating obesity.
Copper Bottle is leak proof and joint free thus very sleek in look.
Cleaning instructions: Just put some lime, salt & hot water in the bottle. Leave it for 15-20 minutes. Shake it well & rinse the water. Clean it with normal water 2-3 times.
Package Contains: 1 Piece Copper Bottle & 1 Pcs Copper Glass.

Origin of Product: India

Shipping charge: $ 1
Enter your location to check delivery

Add location




Sold by ThreadMantra
Stock:

50

Model:

TMCB 621

Weight:

380.00g

Dimensions:

0.00in x 3.00in x 11.00in

SKU:

TM001

Location:

India
Special Instructions:
Use This Discount Coupons "SHOP730" during Anniversary Sale (1st - 3rd September 2020).

Please read product description carefully; before checkout and placing the order.

Use This Discount Coupons "OMBIKA0598" at the time of checkout. If your order value exceeds Rs. 1000/-.
For each & every prepaid order; you will get Rewards Point equal to 1% of your order value.

Product Package Opening Video should be with you. Please keep in mind that when you receive the product and going to open the package, please make a video. It's mandatory for each & every customers.