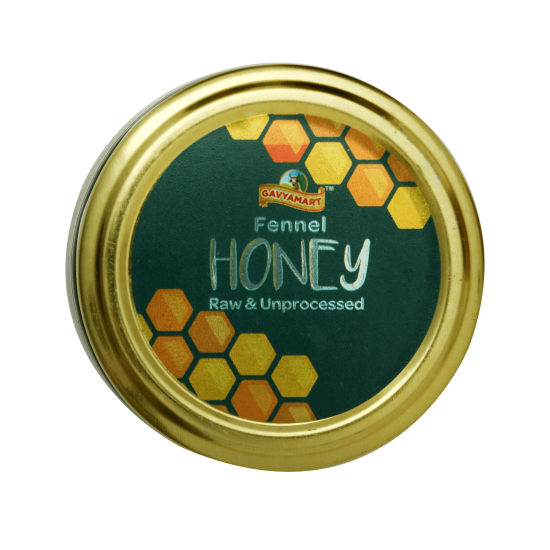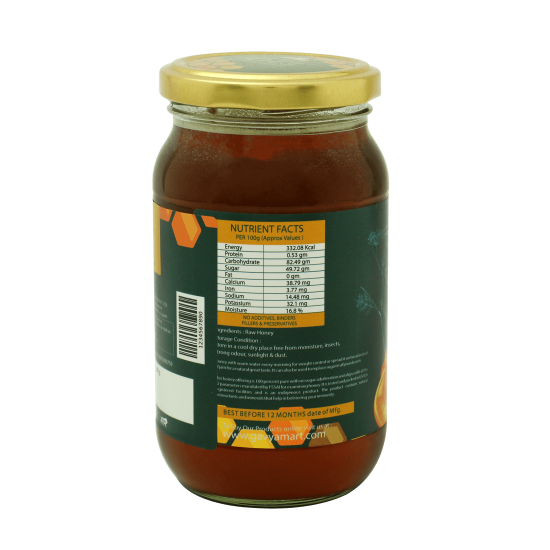 -44 %

Gavyamart 100% Pure Fennel Honey Brand with No Sugar Adulteration 500g
Gavyamart Fennel Honey is made by honeybees from the nectar of Fennel flowers. The Fennel plant usually grows next to other types of plants. Gavyamart's naturally ripened Fennel Honey retains all the medicinal and therapeutic benefits associated with Fennel seeds such as; Preventing and curing acidity.
Benefits:

Preventing and curing acidity

Helps in heartburn and gas conditions

Helps in bloating and loss of appetite

Fighting respiratory infections

Boosting metabolism and immunity

Reducing inflammation

It is neither artificially flavoured nor infused.It is procured through beekeeping.This product contains no additives, is free from artificial preservatives, synthetic fillers or binders. 100% natural.

Direction:

Store in a dry cool place. Part or full crystallization is a natural process.

Origin of Product:

India
Other information:
Crystallization of raw honey is a natural process. It can be consumed 'As Is' or can be re-liquified by placing the container in warm water.

This honey may contain 2-5% traces of nectar from surrounding flowers.

Infants under 12 months cannot digest raw honey.

Do not refrigerate. Store at room temperature (away from sunlight).
Technical Details
Brand
Gavyamart
Country of Origin
India
Ingredient Type
Honey
Manufacturer
Gavyamart Panchgavya Utpad Pvt Ltd
Specialty
Suitable for vegetarians
Additional Information
Date of First Available
18th April 2022
Shipping charge: $ 0
Enter your location to check delivery

Add location




Sold by GAVYAMART
Stock:

100

Model:

Fennel Honey 500g

Weight:

550.00g

Dimensions:

8.00cm x 5.00cm x 7.00cm

SKU:

Gavya027

Location:

India
Gavyamart
Special Instructions:
Product Package Opening Video should be with you. Please keep in mind that when you receive the product and going to open the package, please make a video. It's mandatory for each & every customers.
Please read product description carefully; before checkout and placing the order.
Use This Discount Coupons "OMBIKA0598" at the time of checkout. If your order value exceeds Rs. 1000/-.
For each & every prepaid order; you will get Rewards Point equal to 1% of your order value.
If you have any queries; you may write to us at: support@ombika.com