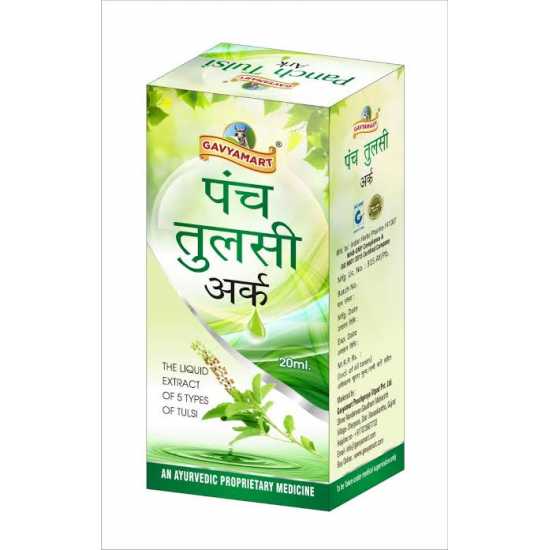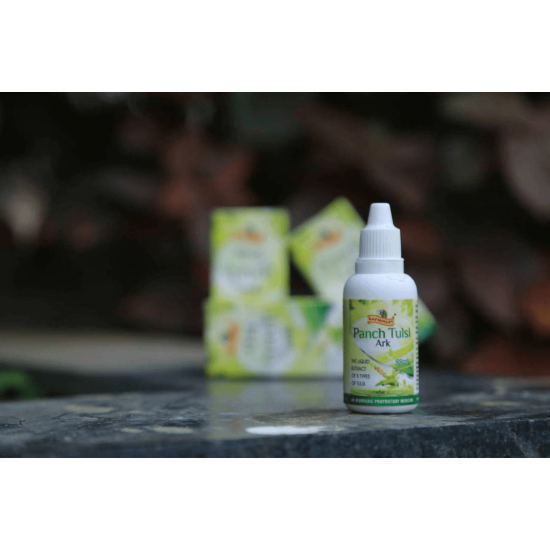 -40 %

Gavyamart Panch Tulsi Drops 20ml (Pack of 2)
Gavyamart Tulsi Drops has antioxidant properties which helps boost immunity. It helps provide relief from cough and cold & helps in relieving mucus. It has antimicrobial properties. It contains the extracts of 5 rare tulsi which has a lot of benefits. The intake of tulsi is the best way of intestine cleaning. It also helps in stress management. It is good for skin, joint and liver health.
Benefits: -
Tulsi is well known for its antibiotic, anti-viral, anti-bacterial and anti-carcinogenic properties.
Tulsi essential oil has the ability to help fight free radical damage while protecting DNA structure and cells.
Tulsi is packed with strong anti-inflammatory properties that protects you from variety of diseases and disorders and boots your immunity.
Product Description: -

Panch Tulsi Drop with goodness of Tulsi, Rama Tulsi, Shyama Tulsi, Vana Tulsi and Nimbu Tulsi

It helps boost immunity

It has antimicrobial properties and is good for skin, liver and joint health

Anti Oxidant: High content of phenolic compounds and anti-oxidant properties helps in detoxification and protection of body from toxins

Take 1-2 drops of Tulsi drops in glass of hot water and consume 2-3 times a day. It can also be used with tea or any hot drink.

Origin of Product: India

Technical Details
Brand
Gavyamart
Country of Origin
India
Manufacturer
Gavyamart Panchgavya Utpad Pvt Ltd
Additional Information
Date of First Available
31 January 2021
Shipping charge: $ 0
Enter your location to check delivery

Add location




Stock:

100

Model:

Panch Tulsi

Weight:

100.00g

Dimensions:

10.00cm x 5.00cm x 7.00cm

SKU:

Gavya004

Location:

India
Gavyamart
Special Instructions:
Product Package Opening Video should be with you. Please keep in mind that when you receive the product and going to open the package, please make a video. It's mandatory for each & every customers.
Please read product description carefully; before checkout and placing the order.
Use This Discount Coupons "OMBIKA0598" at the time of checkout. If your order value exceeds Rs. 1000/-.
For each & every prepaid order; you will get Rewards Point equal to 1% of your order value.
If you have any queries; you may write to us at: [email protected]