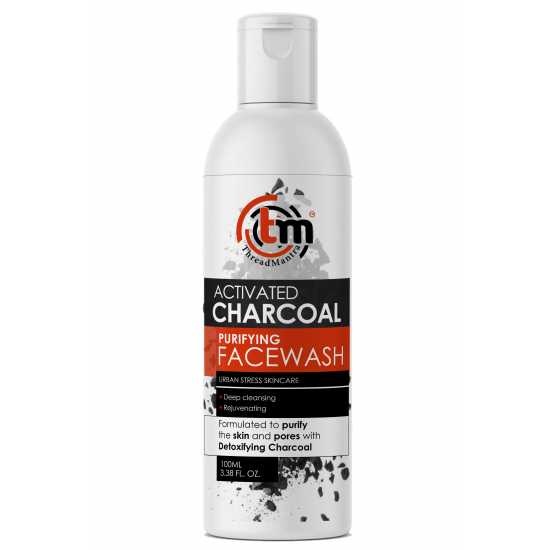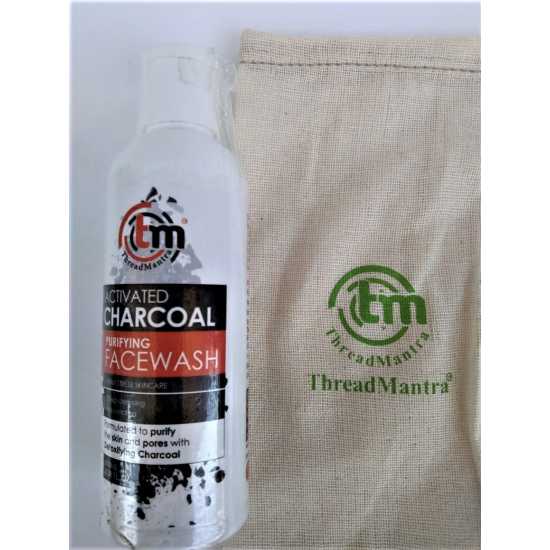 ThreadMantra Charcoal Face Wash
Charcoal has great capacity to absorb pollution and harmful toxins. ThreadMantra activated charcoal face wash wipes out bacteria, dirt, impurities, toxin caused due to excessive exposer to pollution from your skin.
DETOXIFYING & DEEP CLEANSING ACTIVATED CHARCOAL: Face Wash cleanse your pores with charcoal, which is a naturally purifying agent for deep cleans - freeing pores and skin from dirt, oil, and makeup making it a great skincare product for acne control, eczema, rosacea, blemishes and blackheads.
EXTREME ANTIOXIDANT BENEFITS: With potent antioxidants like Vitamin-C and Vitamin-B3,B5; this cleanser works for to rejuvenate and refine the skin. All types of skin will see the nourishing benefits of brilliant skin with this professional-grade formula.

Flushes accumulated dead skin cells and impurities to reveal beautiful skin, also helps to reduce the causes of blemishes.

Moisturizing natural ingredients like coconut oil, orange peel oil and aloevera gel extracts to provide nutrients that balance the skin.

Everyone with dry, oily, sensitive or even combination skin types, will find their skin benefits from this advanced formula. No added Parabens, Sulphates, SLS or Harmful Chemicals.
Shipping charge: $ 1
Enter your location to check delivery

Add location




Sold by ThreadMantra
Stock:

50

Model:

TMF 522

Weight:

150.00g

Dimensions:

0.00in x 1.50in x 5.50in

SKU:

TM004

Location:

India
Special Instructions:
Use This Discount Coupons "SHOP730" during Anniversary Sale (1st - 3rd September 2020).

Please read product description carefully; before checkout and placing the order.

Use This Discount Coupons "OMBIKA0598" at the time of checkout. If your order value exceeds Rs. 1000/-.
For each & every prepaid order; you will get Rewards Point equal to 1% of your order value.

Product Package Opening Video should be with you. Please keep in mind that when you receive the product and going to open the package, please make a video. It's mandatory for each & every customers.